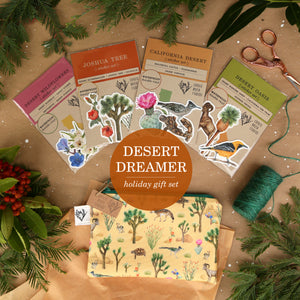 Desert Dreamer Gift Set: Themed Gift Set including Stickers, Zipper Pouch
Regular price $40.00 $35.00 Sale
Are you looking for a gift for someone who loves California's unique desert flora and fauna?
We've put together a holiday gift set of stickers and a zipper pouch perfect for any desert dreamer!
Desert Dreamer set includes:
1 Medium Desert Zipper Pouch
1 Desert Stickers Set (Desert Tortoise, Roadrunner, Beavertail Cactus)
1 Desert Oasis Sticker Set (Desert Bighorn Sheep, California Fan Palm, Hooded Oriole)
1 Desert Wildflowers Sticker Set (Mojave Ghost Flower, Brittlebush, Desert Bluebells, Desert Five Spot)
1 Joshua Tree Sticker Set (Joshua Tree, Desert Globe Mallow, Ocotillo)
Save $5 (or $10 while on sale!) when you purchase this gift set.
(Items sold separately total $40)
Stickers come in sustainable packaging. The zipper pouch is sewn with an eco canvas made from recycled water bottles.
Happy Holidays!