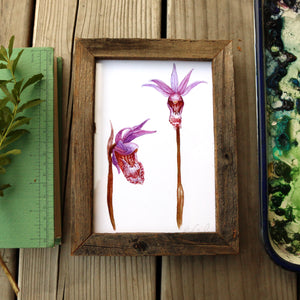 Calypso Orchid 5x7 Print - Native California Wildflower, Watercolor Print, Native Flora, Flower Art Print, Redwood Forest, Fairy Slipper
Regular price $12.00 $9.60 Sale
❀ ✿ ❁ ✾ Celebrate the diversity of wildflowers found in the golden state with this 5x7 art print, perfect for any naturalist (young or old), or lover of nature illustrations or botany! ❀ ✿ ❁ ✾
This signed print is a reproduction of my watercolor illustration of the native California orchid, the Fairy Slipper.
This print is perfect for both budding botanists or veteran plant lovers, or for anyone who loves California or natural history illustration!
The print is 5 x 7 inches, comes bagged with a backing board and can be easily framed (frame not included).
*This listing does NOT include the frame pictured- the frame and any other items in the images are for context only.*
We want to make sure that California and the rest of the world stays a place of wonder for future generations! Your print will be shipped flat in a protective sleeve with recycled cardboard packaging and biodegradable tape.
****Become A State Steward! ****
With your purchase of a California print, a portion of the proceeds is donated to organizations working to help protect natural habitats in our state! Help preserve California for future generations to enjoy!