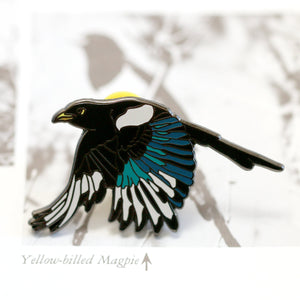 SECONDS SALE Yellow Billed Magpie Hard Enamel Pin
Regular price $12.00 $8.00 Sale
***Seconds Sale! These pins may have minor imperfections, such as small scratches in the metal or enamel, tiny specks of paint in the wrong place, etc.***
This enamel pin features a yellow-billed magpie (one of just two birds found only in California!) and is perfect for birders and naturalists!
This hard enamel pin with black nickel metal is approximately 2" x 1" and comes with two bright yellow rubber pin backs. The backing card comes with fun facts about this corvid!
Your pin will be safely mailed in an eco-friendly fully recyclable bubble wrap mailer made from 32.6% recycled content.
"Every morning magpies pass through the Sunol campground to check out the garbage cans. They have yellow beaks, stunning black and white coats, and long iridescent tails. Their elegance is almost embarrassing. It's like having members of the Metropolitan Opera orchestra in full dress searching through your left-overs." -Malcom Margolin, The East Bay Out
↟ ↟ Become a Wildlife Defender! ↟ ↟
We want to make sure California remains a place of wonder for future generations! With your purchase of a yellow-billed magpie enamel pin, a portion of the proceeds is donated to organizations that are working to protect California's wild lands and native species!