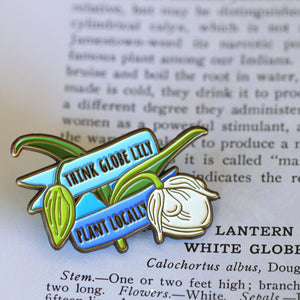 SECONDS SALE Think Globe Lily, Plant Locally Enamel Pin: California Native Plant Pin
Regular price $12.00 $5.00 Sale
***Seconds Sale! These pins have a significant color variation from their regular design, as pictured in the listing image. Some may also have minor imperfections, such as small scratches in the metal, tiny specks of paint in the wrong place, etc.***
Think Globe Lily, Plant Locally!
This punny enamel pin, featuring a white globe lily (Calochortus albus) is perfect for those who want to think on the global scale by promoting local species.
The enamel pin with gold metal is approximately 1.5" x 1.75 " and comes with two rubber pin backs. The backing features fun facts about this native plant and a list of ways that you can "plant locally"!
❀ ✿ ❁ Become a Wildflower Warrior ❀ ✿ ❁
All proceeds from these seconds pins is donated to organizations working to make a difference in the state of California to protect and support it's wildlife, native flora, land and people! Interested in hearing more? Feel free to send us a message!
Love lilies? Check out our California Lilies sticker set, which includes a Globe Lily sticker!