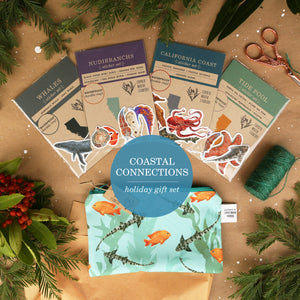 Coastal Connections Gift Set: Themed Gift Set including Stickers, Zipper Pouch
Regular price $35.00 Sale
Are you looking for a gift for someone who has a special connection to the California Coast?
We've put together a holiday gift set that includes stickers and a zipper pouch perfect for any lover of the Pacific Coast and the diverse wildlife that lives there!
Coastal Connections Gift Set includes:
1 Kelp Forest Medium Zipper pouch
1 California Coast Sticker Set (Pacific Seahorse, Giant Pacific Octopus, Leopard Shark)
1 Nudibranch Sticker Set (Orange Peel Doris, Black Tipped Spiny Doris, Opalescent Nudibranch, San Diego Dorid, Spanish Shawl)
1 Whale Sticker Set (Gray Whale, Humpback Whale)
1 Tidepool Sticker Set (Sea Urchin, Ochre Sea Star, Opalescent Nudibranch, Tidepool Sculpin)
Save $5 when you purchase this gift set. (Items sold separately total $40)
Stickers come in sustainable packaging. Zipper Pouch sewn with an eco canvas made from recycled water bottles.
Happy Holidays!