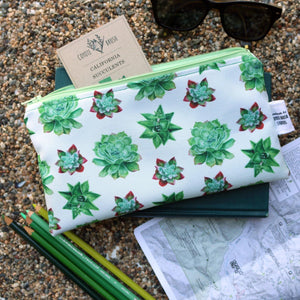 *Discontinued* California Succulents Zipper Pouch Large, Watercolor Botanical Illustration, Travel Organizer Bag, Flat Purse, Pencil Zipper Pouch
Regular price $26.00 $16.00 Sale
*You found a rare discontinued Coyote Brush Studios size LARGE zipper pouch! Nothing wrong at all with this one, it's just a size we don't make anymore. :)*
Help us reduce waste and find this pouch a home!
----
⧍ ☽ Going out on an adventure? ⧍ ☼
This succulent zipper pouch is ready to help you keep your tiny things in order while you are on the go!
This versatile pouch is made out of a Coyote Brush Studios original fabric pattern design and features three native California succulents! The outside canvas pattern was created from my original watercolor illustrations of these native dudleya. The inside lining is a vibrant green, the pouch closes with a light green zipper. Each pouch comes with care instructions and fun facts about these California species!
Approximate size is 9.5 inches x 5 inches with an 8-inch zipper opening .This size is perfect for storing your phone, wallet, keys, sunscreen, small pencils or crayons, a small watercolor kit or other little collected treasures! (Small items in the images are for photos only and are not included with the pouch.) These pouches are handmade with love by me, so very slight variations may occur.
♻ The fabric is both durable and ecofriendly! Produced and printed in the United States, the outside fabric is printed on eco canvas, a 100% polyester canvas with 45% recycled content, and is printed with 100% biodegradable, non-toxic ink! The Coyote Brush Studios tag on the bag is printed on organic cotton, and all the packaging is printed on 100% recycled paper. Your bag will be joyfully shipped in a 100% recycled padded mailer! ♻
↟ ↟ Become a Wildlife Defender! ↟ ↟
We want to make sure California remains a place of wonder for future generations! With your purchase of a zipper pouch, a portion of the proceeds are donated to organizations that are working to protect California's wild lands and native species!
✁ Care instructions ✁
Hand wash or spot clean only. If ironing, use synthetic setting only.
Get some succulent stickers to go with your zipper pouch!

Want to stay connected and learn more about California's native plants and animals? Follow us here:
⧍ Instragram @Coyotebrushstudios
⧍ Facebook Coyote Brush Studios